St Robert Bellarmine (1542 -1621) was born into a noble but impoverished family at Montepulciano, Italy. He was a bright student and at 16, entered a novitiate College in Rome. He then progressed to the Universities of Padua and Leuven.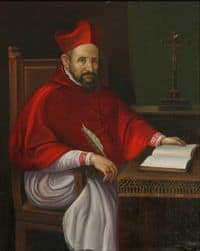 Following his ordination, St Robert began a long teaching career at Leuven University. He became a well-known Jesuit professor and preacher. St Roberts works and achievements led to two Popes, Sixtus and Clement, choosing him as a respected papal theologian to help them guide the Church. He was appointed Rector of the Roman College and a Cardinal.
St Robert is a Doctor of the Church. His Feast Day is the 17th September. He is the Patron Saint of Bellarmine University, canon lawyers and catechists.
---
St Robert Bellarmine:
Pray for us that we will listen to the teachings of Jesus.
Glory be to the…
---