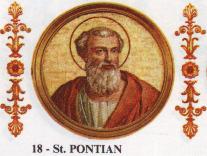 St Pontian (200 ca – 235) was Pope from 230 to 235. His early Pontificate was generally peaceful under the then Roman rulers but when Emperor Maximinus Thrax was appointed, Christianity was no longer tolerated.
Pope Saint Pontian was arrested along with St Hippolytus, who was a rival Pope. Both were exiled to hard labour in the mines of Sardinia. St Pontian and St Hippolytus (170 – 235) reconciled their differences before both were martyred, as expected, from their terrible treatment.
---
St Pontian & Hippolytus:
Pray for us that we will strive to avoid conflict and quickly reconcile differences.
Glory be to the…
---