Pope St Pius (1504-1572) was born in Bosco Marengo, Italy. At 14, he joined the Dominicans and in 1528, he was ordained a Priest. He lectured at Pavia for sixteen years, becoming Prior of various monasteries and later Archbishop.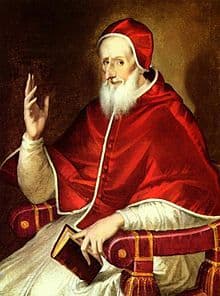 In 1566, St Pius was elected Pope and remained in post until his death in 1572. St Pius didn't hesitate to instil greater moral discipline throughout his charges including, prosecuting eight French Bishops for heresy and excommunicating Queen Elizabeth I for her persecution of English Catholics. He asserted the importance of common ceremonial practices and standardised the Mass which, remained virtually unchanged for the next 400 years. He was canonised a Saint in 1712.
Pope St Pius' Feast Day is 30th April (General Roman Calendar). His Patronages include Valletta in Malta, Bosco Marengoin Italy, Pietrelcina in Italy, Roccaforte Mondovi and the Diocese of Alessandria.
---
Pope St Pius:
Pray for us that we will proudly uphold the teachings of our faith.
Glory be to the…
---