Blessed Pius (1792 – 1878) was born into a noble family in Senigallia, Italy. He was the last appointed Pope and Sovereign Ruler of the then Papal States; Papal State sovereignty ended in 1870.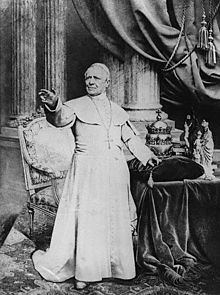 Blessed Pius was described as a "Restless and radical reformer and innovator of Church life and its structures". He convened the First Vatican Council which declared the infallibility of the Pope.
His reforms excelled after his death including, lasting changes to our understanding and devotion to the Blessed Virgin Mary. It was Pope Pius who also introduced the simple practical initiative of a one-day charity collection in all Parishes worldwide. It was known as Peter's Pence and the money collected used to help those suffering as a result of wars, oppression, natural disasters and disease throughout the world. The practice continues today and it has raised many billions for those in very great need.
Blessed Pius was Pope for almost 32yrs, the longest ever serving. His Feast Day is the 7th February, the day of his death. His Patronage includes Pius Seminary in Rome and the Diocese of Senigallia.
---
Blessed Pius:
Pray for us that, with the help of Mary our Blessed Mother, our daily actions will draw us closer to Jesus.
Glory be to the…
---