St Peter Julian Eymard (1811 – 1868) was born an only son into a poor family at La Mure, France. In his early years, he developed an intense devotion to the Blessed Virgin Mary and would travel on foot to many distant shrines.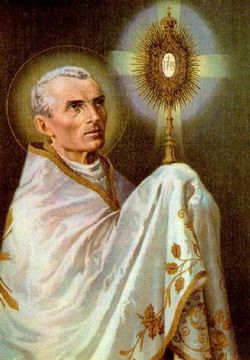 St Peter's father was opposed to him joining a religious order and ill health forced him to give up his initial studies. However, he persevered and later joined the seminary of Grenoble Diocese. He was ordained a Priest in 1834.
St Peter's early work was in a poor parish but through his evangelisation, he yearned to join the Marist Fathers (Society of Mary).
Once he was finally accepted, he quickly started, with the help of other Marists, promotion of devotion to the Blessed Virgin Mary and the Holy Eucharist. With the encouragement of St John Vianney, St Peter set up the Society of the Blessed Sacrament; an order devoted to honouring the Eucharist. St Peter once said, "You take communion to become holy, not because you already are".
His Feast Day is the 2nd August.
---
St Peter Julian Eymard:
Pray for us that we will continuously yearn to meet Jesus in the Holy Eucharist.
Glory be…
---