St Peter Damien (Approx. 1007 – 1073) was born the youngest child to a large noble but poor family in Ravenna, Italy. He was still very young when both his parents died. At first, an older brother cared for him but treated him badly, using him as a slave to tend farm animals. A second brother, Damianus an Archpriest, then adopted him and gave him a good education.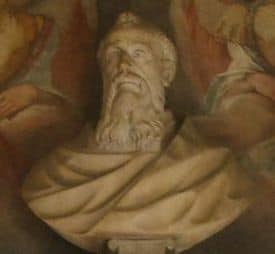 St Peter's exceptional intellectual abilities were obvious. He studied Theology and Canon Law at Ravenna, Faenza and the University of Parma. By 25yrs, he was a highly respected teacher.
At the age of around 28yrs, St Peter left teaching and joined the hermitage of Fonte Avellana where he quickly progressed from novice to monk. His devotion to a life of prayer and penance became renowned and when appointed in 1043 to Prior of Fonte Avellana, he introduced even more austere rules.
St Peter Damien challenged the behaviour of clergy and church practices. He wrote numerous documents reflecting his personal holiness and offering support and guidance to the Church through very difficult political eras. He was described by Pope Benedict XVI as "one of the most significant figures of the 11th century … a lover of solitude and at the same time a fearless man of the Church, committed personally to the task of reform".
Despite his resistance, St Peter Damien was appointed Cardinal Bishop of Ostia in which he gave valuable assistance and direction to the Church before retiring back to Fonte Avellana.
In 1828, St Peter Damien was declared a Doctor of the Church, one of just thirty-five. His Feast Day is the 21st February.
---
St Peter Damien:
Pray for us that we will find silent time to contemplate the wonders of the love Jesus holds for us.
Glory be to the…
---