St Peter (1803-1841) was born the fifth of eight children in the hamlet of La Potiere, France. As was often the role for children in rural areas, he was a shepherd from about the age of 7 to 12. It was around the same time that the local Priest established a school and convinced his parents to send St Peter.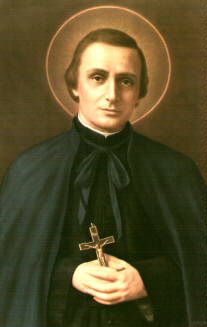 St Peter excelled at school. He attracted the attention of a travelling Priest who offered the family a church-sponsored education. St Peter received numerous awards at his new school and developed a desire to work in foreign missions. He was ordained a Priest in 1827 and quickly progressed from Curate to Parish Priest and spiritual director of a seminary.
In 1836, St Peter was appointed the leader of a group of seven Missionaries selected to travel to the South West Pacific islands. It was a long and difficult journey. They settled on the Island of Futuna.
At first, St Peter was welcomed by the King but, when he converted the King's son and many others to Christianity, the King gave instructions to, "Do whatever was necessary," to prevent the spread of the Christian faith. St Peter was clubbed to death.
St Peter's Feast Day is 28th April, the day of his death, aged 37yrs. He is the Patron Saint of Oceania.
---
St Peter:
Pray with us that our faith will never fail, despite all challenges.
Glory be to the…
---