St Peter Canisius (1521 – 1597) was born into a wealthy family in Nijmegen, the Netherlands. His mother died shortly after his birth.
St Peter was a bright student and studied at the University of Cologne gaining a Master's Degree by the age of 19.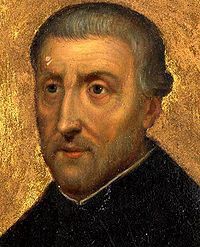 St Peter was the first Dutchman to join the Society of Jesus, perhaps influenced by Peter Faber, a joint founder of the society whom he met in Cologne.
St Peter became a prominent teacher, preacher and writer; becoming one of the most influential Catholics of his time. For many years he resided in Germany where he was considered a major Catholic Theologian. He exerted a strong influence over leaders such as Emperor Ferdinand and he attracted hundreds of Protestants back to Roman Catholicism.
St Peter spent the last twenty years of his life in Switzerland where he founded a Jesuit Preparatory School.
It was St Peter who added the second part to our Hail Mary prayer i.e. "Holy Mary, Mother of God, pray for us sinners now and at the hour of our death. Amen".
St Peter's Feast Day is the 21st of December. He is the Patron Saint of the Catholic Press, Germany and a Doctor of the Church.
---
St Peter Canisius:
Pray that, with the help of the Blessed Virgin Mary, we will joyfully accept the path Jesus has asked us to follow.
Glory be to the…
---