St Pedro was born into a poor Christian family at Vilaflor, Tenerife. He spent much of his early life, until around the age of 23yrs, as a shepherd. He was notably religious and used a cave as part of his simple daily living; working, praying and doing penance.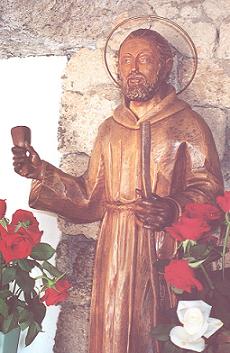 In 1649, St Pedro left Tenerife; he hoped to join a friend living in Guatemala City and find work. On reaching Havana (Cuba) he worked for a year until he had the money to complete his journey. However, by the time he arrived in Guatemala, he was destitute and seriously ill.
Somehow, St Pedro regained his health and, hoping to fulfil his lifetime ambition of becoming a Priest, he joined the Jesuits. Sadly, his plan collapsed again when he failed to reach the academic standard but still undeterred, he joined the Franciscans as a layperson.
For his remaining years, St Pedro never forgot the poor, the homeless, the young, the sick, the outcast, hospitals, prisons and numerous other marginalised groups and support institutions. He opened an oratory, a hospital and many care centres. He was instrumental in setting up a new Religious Order devoted to caring for the type of people he had spent much of his life looking after. St Pedro died, aged just 41yrs. He is "considered the great evangelist of the West Indies".
St Pedro's Feast Day is 25th April, the day of his death. He is Patron Saint of the homeless, Canary Islands, Guatemala and Central America.
---
St Pedro:
Pray for us that we will generously remember the poor and marginalised in our prayers and material support.
Glory be to the…
---