St Paul I (Died 350), a native of Thessalonica, was elected the sixth Bishop of Constantinople in 337. Previously, he had been a presbyter of Constantinople and secretary to Bishop Alexander of Constantinople, his predecessor.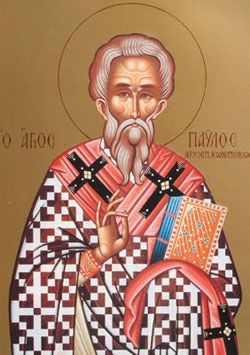 St Paul's time as Bishop was mired by the Arian controversy. This was a long-running theological dispute between two theologians, Arius and Athanasius. The main controversy concerned the relationship between God the Father and God the Son. St Paul was firm in his belief to the Nicaea Creed; the teaching of the Trinity, one God but three Divine Persons, the Father, the Son and the Holy Spirit and all things coming "from the Father", "through the Son" and "in the Holy Spirit". (Catechism of the Catholic Church, 253–267: The dogma of the Holy Trinity".)
St Paul was exiled on three occasions for his teachings while the city of Constantinople suffered greatly. On his third exile, he was taken to Cappadocia and imprisoned without food. After six days and much to the disappointment of his captors, he remained alive so, they strangled him claiming that he had died following a short illness.
St Paul's Feast Day is the 7th June.
---
St Paul:
Pray for us that we will live by and uphold the teachings of the Catholic faith throughout our days.
Glory be to the…
---