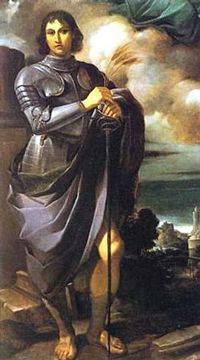 St Pancras (289 – 304) was born to Roman parents near Synnada, Turkey. His mother died during childbirth and his father died when he was 8 years old. St Pancras moved with his uncle to Rome. They converted to Christianity and lived devout and pious lives.
During the reign of the Roman Emperor Diocletian, Christians were mercilessly persecuted. St Pancras was one among the many thousands arrested. He was given the option, to offer sacrifice to their Roman gods with the promise of wealth and power, or be executed. St Pancras resolutely refused to recognise any god other than God the Father in Heaven. In response, he was beheaded. He was only about 14 yrs old.
His Feast Day is the 12th May.
---
St Pancras of Rome:
Pray for us that we will remain firm in our faith and a worthy example to others.
Glory be to the…
---