St Mechtilde (1241 Approx.-1298) was born into the noble and powerful Thuringian dynasty, Mansfelder Land, Germany. At birth, she was so frail her baptism was quickly organised however, the presiding Priest commented, "What do you fear? This child most certainly will not die, but she will become a saintly religious in whom God will work many wonders, and she will end her days in a good old age".
At 7yrs, her mother took St Mechtilde to the Cistercian Monastery in Rodersdorf where her older sister, Gertrude, was a Nun. St Mechtilde was so taken by the Monastery that her parents allowed her to join their Alumnate.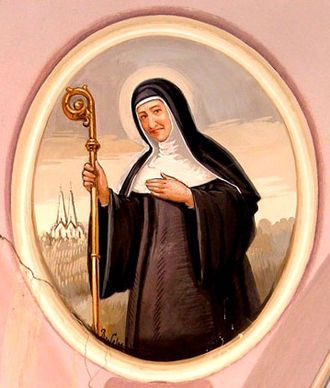 In 1258 and aged 17yrs, St Mechtilde followed in her sister's footsteps, now an Abbess. She entered her Cistercian Convent and became a Benedictine Nun. St Mechtilde was described as, "distinguished for her humility, her fervour and extreme amiability". St Mechtilde worked in the Convent Library. Her primary responsibilities were illuminating texts, writing scripts and composing prayers.
St Mechtilde was a talented musician and vocalist, often referred to as the "Nightingale of Helfta". She happily led the Convent choir and was appointed Headmistress of the Convent. In 1261, St Gertrude the Great then a five-year-old, was committed to her care at the Convent.
St Mechtilde received multiple visions from Jesus and the Blessed Virgin Mary. The Blessed Virgin Mary assured her that she would assist her at the hour of her death but she must repeatedly recite three Hail Mary's in honour of the Holy Trinity. In another vision from Jesus, He told her, "In the morning let your first act be to greet My Heart and to offer Me your own. Whoever breathes a sigh toward Me, draws Me to himself". St Mechtilde became an ardent promoter of devotion to the Blessed Virgin Mary and the Sacred Heart of Jesus.
Many people, Lay and Religious, sought St Mechtilde's prayers and advice. Her mystical experiences were recorded by two nuns and published after her death (The Book of Special Grace).
St Mechtilde's Feast Day is the 19th November, the day of her death. She is the Patron Saint against blindness.
---
St Mechtilde of Helfta:
We pray: Most Sacred Heart of Jesus, truly present in the Holy Eucharist, I consecrate my body and soul to be entirely one with Your Heart. (Extract from Akita Prayer)
Glory be to the…
---