Blessed Mary Frances (1819-1876) was born into a wealthy family in Aachen, Germany. Her mother and two sisters died from tuberculosis when she was sixteen years old.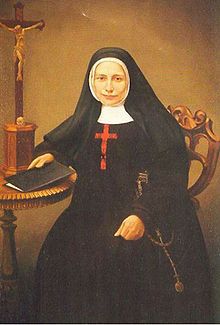 At an early age, Bl. Mary Frances became renowned for her generosity to the poor and care for the sick. However, her father, fearing that she would carry diseases into their home, initially objected to her work.
Following her father's death in 1845, Mary Frances established the Franciscan Sisters of the Poor. Their role was to care for the destitute while they lived a life of poverty, compassion and prayer.
At the time of Bl. Mary Frances' death, there were 2,500+ members in their worldwide community. She was beatified in 1974 by Pope Paul VI.
Bl. Mary Frances Feast Day is the 15th December.
---
Bl. Mary Frances Schervier:
Pray that we will continuously strive to help the poor and marginalised, our brothers and sisters.
Glory be to the…
---