Hippolytus tells us that St Mark (Died 68AD) was one of the "seventy disciples" sent by Jesus to preach His Gospel in Judea. It can, therefore, be assumed that he travelled with Jesus during some of His ministries, listened to His teachings and observed His multiple miracles.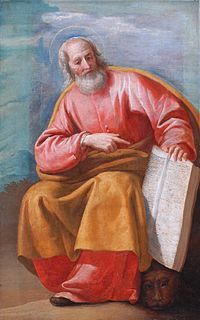 Following Jesus' resurrection, St Mark joined St Peter on his many journies abroad including those to Antioch, Asia Minor and Rome, and he recorded many of St Peter's sermons. Upon St Peter's return to Jerusalem, he left for Alexandria, founded the Church of Africa and was duly appointed Bishop of Alexandria.
St Mark is the composer of the "Gospel according to Mark".
Tradition states that St Mark was martyred in 68AD. St Mark's Feast Day is the 25th April. His Patronages include Barristers, Venice and Egypt.
---
St Mark:
Help us in our understanding and living of Jesus' teachings.
Glory be to the…
---