St Margaret (1247 – 1297) was born into a farming family in Laviano, Italy. Margaret's mother died when she was seven. Her father remarried but Margaret and her stepmother didn't agree. To say that Margaret was strong-minded and wholly determined to do things her way, could be close to the truth!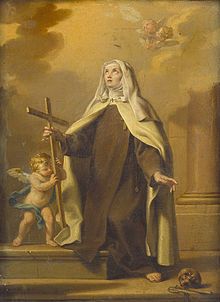 At 17, St Margaret left the family home to live in a castle, as mistress to the Son of a Lord. She bore him a son but ten years later her lover was sadly found murdered. Margaret, greatly regretting her lifetime actions, returned all gifts received from her lover to his family and chose to live a life of poverty and prayer.
St Margaret was eventually accepted into the Order of St Francis where she established a hospital for the poor and homeless. She is the Patron Saint of, among other things, temptations. Her Feast Day is the 16th May, the day of her canonisation or the 22nd February, the day of her death.
Thought: While in prayer, St Margaret once heard the words, "What is your wish, poverella? ("little poor one"), she replied, "I neither seek nor wish for anything but You, my Lord Jesus."
---
St Margaret:
Pray for us that we will find our way through life, following only God's wishes.
Glory be to the Father…
---