St Margaret Clitherow (1556 – 1586) was born in York, England; her Father, Thomas Middleton, was a candle maker.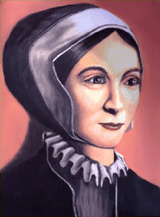 At the age of 15yrs, St Margaret married a wealthy butcher and chamberlain of York. She bore three sons, one of whom became a Catholic Priest. When she was 18yrs, with the support of her husband who was a Protestant, she converted to Catholicism.
St Margaret regularly held masses in her home during the reign of Queen Elizabeth I when Catholics were persecuted. Her home had a secret hole in the attic to allow Priests a quick escape should it be raided by authorities.
Aged 30yrs, St Margaret was arrested for harbouring Catholic Priests. She refused to plead, to prevent her sons from testifying which would have led to their likely execution. On Good Friday she was found guilty and sentenced to be crushed to death, the then punishment for refusing to plead.
St Margaret's execution was horrifying. She was stripped, stretched out on the floor, the door of her home placed on top of her outstretched body and rocks slowly piled aloft. It is said that St Margaret probably died within 15mins but the stones were left for several hours.
St Margaret is often referred to as "the Pearl of York" and is one of the Forty Martyrs of England and Wales. Her Feast Day is 26th March. Her Patronages include converts and businesswomen.
---
St Margaret:
Pray for us that, through our daily actions, we will proudly announce our faith.
Glory be to the…
---