St Louise was born out of wedlock, her mother a widower, into aristocracy near Le Meux, France. She was educated among France's elite, at a royal monastery near Paris. At 12yrs, her father died so she moved to the home of a devout spinster, doing household chores and herbal medicine.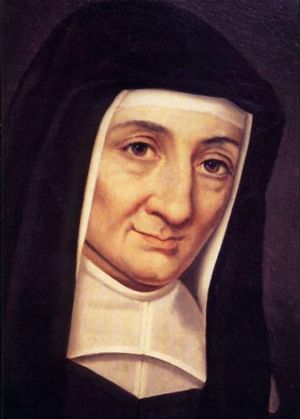 At 15yrs, she was attracted to a cloistered life but was refused entry by the Capuchin Order; she was greatly disappointed. At 26yrs, and on her family's advice, she married the Secretary to Queen Marie. They had a son and she became a devoted mother, as well as an active parish member, taking a leading role in helping the poor and oppressed. After about four years of marriage, Louise's husband became chronically ill and died a few years later.
As the years passed, St Louise became very depressed and yearned for a more spiritual experience. She received a vision in which she was told to be patient, the opportunity would arise. At 42yrs, and with the help of others including St Vincent de Paul, she founded the Daughters of Charity. Her long-time wish, to serve the poor and sick while living a life of prayer, penance and receiving the sacraments, was fulfilled. St Louise managed her growing community of the Daughters of Charity until her death, at 68yrs.
St Louise's Feast Day is 15th March, the day of her death. Her Patronages include widows, disappointing children, loss of parents, people rejected by religious orders, the sick, social workers and the Vincentian Service Corps.
---
St Louise de Marillac:
Pray with us for the unwanted, marginalised and orphaned children throughout the world.
Glory be to the…
---