St Louis (1214 – 1270) was born in Poissy, France. He was crowned King of France at the age of 12yrs and ruled from 1226 until his death in 1270. He is the only canonised King of France.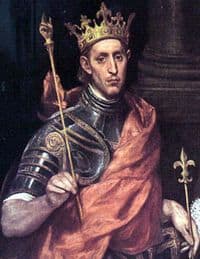 St Louis was a devout Catholic and took his mission as, "Lieutenant of God on Earth" seriously. He was compassionate to the poor and regularly invited groups of more than a hundred people to eat with him. He introduced the presumption that a suspect was innocent until proven guilty. He introduced punishments for blasphemy, gambling, interest-bearing loans and prostitution. He built the Sainte-Chapelle ("Holy Chapel") in the centre of Paris.
The positive relationship that St Louis created between the Papacy and France led to Pope Clement relocating to Avignon from Rome in 1309.
St Louis conducted two crusades believing it to be his religious duty. He died in Tunis, probably from dysentery. His Feast Day is the 25th of August, the day of his death.
---
St Louis of France:
Pray for us that we will persevere in sharing Jesus' Gospel with our family, friends and community.
Glory be to the…
---