St Lorenzo Ruiz (1600 ca – 1637) was born in Manila, Philippines. His father was Chinese and mother Philipino. From them, he learned to speak Chinese and Tagalog.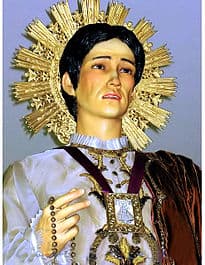 St Lorenzo received a basic general education at a Dominican school and joined the Confraternity of the Most Holy Rosary. He married and had two sons and a daughter.
In 1636, while working as a clerk for his local church, St Lorenzo was falsely accused of killing a Spaniard. In a panic, he fled on board a ship with the aid of three Dominican Priests to Okinawa, Japan. On arrival, he was arrested and tortured, along with the three Priests, for his Christian faith.
A year later, St Lorenzo was transferred to Nagasaki for trial. He was again tortured but this time, until death. In his final words, he said, "I am a Catholic and wholeheartedly accept death for the Lord".
St Lorenzo was the first Philippine Saint to be recognised by the Catholic Church. His Feast Day is the 28th September. He is Patron Saint of the Philippines and the poor.
---
St Lorenzo Ruiz:
Pray for us that we will remain faithful to the teachings of Jesus Christ.
Glory be to the…
---