St Kateri (1657 – 1680) was born in a Mohawk village near New York. Her father, a Mohawk Chief, was a Catholic who had been captured and adopted by the tribe. Her mother was also captured by Mohawk warriors and taken to their homeland from Montreal. Her mother was previously educated by French Missionaries.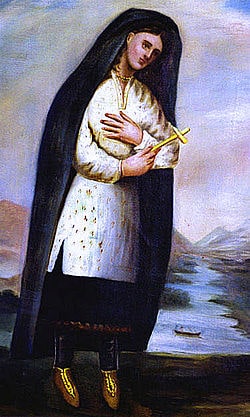 When a smallpox epidemic spread through her village her brother, mother and father died. She became infected but survived although her body and face were badly scarred and her eyesight impaired; she was 4yrs old. As an orphan, she was cared for by her aunt.
With the advent of colonisation, the Jesuits became influential in Mohawk life. St Kateri studied the catechism and was baptised into the Catholic faith.
At around 17, St Kateri rejected a married life and later wrote to a Priest saying, "I have deliberated enough. For a long time, my decision on what I will do has been made. I have consecrated myself entirely to Jesus, son of Mary, I have chosen Him for husband and He alone will take me for wife".
Her devotion to her Catholic faith included ritual physical punishment such as fasting, flogging and sleep deprivation. In 1680, St Kateri's health rapidly deteriorated and she was called to eternal life in heaven. At the time of her death, her facial scarring disappeared and numerous other associated miracles in her community and beyond followed.
St Kateri is often referred to as The Lily of the Mohawks. Her Feast Day is the 14th July. Her patronages include Native Americans and the environment.
St Kateri:
Pray for us that our daily actions will respect the teachings of our faith and that we will live a life filled with holiness until our final breath.
Glory be to the…
---