St Jutta (Approx. 1200 – 1260) was born into an aristocratic family at Sachsen-Anhalt, Germany. She married at 15 and raised her children in a contemplative form of Christianity; all of whom later followed a religious monastic life.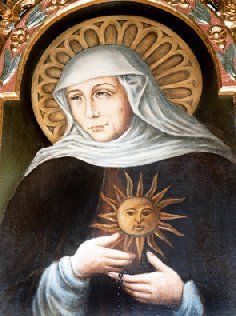 When her husband died on a pilgrimage to Jerusalem, St Jutta decided to join the Third Order of St Francis. She sold her material wealth and led an austere life, caring for and helping the poor despite the ridicule she received from her community.
In later life, St Jutta moved to Kulmsee near Prussia where she received visitors and dedicated her time to prayer. St Jutta was well known for her counsel and many miracles.
St Jutta's Feast Day is the 5th May. She is Patron Saint of Prussia.
---
St Jutta of Kulmsee:
Pray for us that we will find the true path to eternal life and remain loyal to Jesus' teachings.
Glory be to the…
---