St Julian (Died 305) was born in Anazarbus, Turkey. His wife, Basillissa, was also canonised a Saint. Together they devoted their lives to Christianity and the conversion of numerous souls to the faith.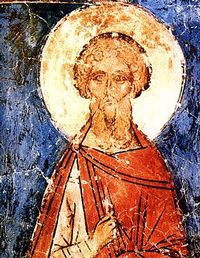 The success of St Julian's work led to his arrest. Legend holds that he was subjected to terrible tortures including, being paraded daily for one year through the cities of Celicia, Turkey. His means of martyrdom was also gruesome; he was tied inside a sack, part-filled with scorpions and vipers, and cast into the sea. The currents carried his body to Alexandria, where he was initially buried, prior to being exhumed and moved to Antioch.
The Feast of St Julian of Antioch is 16th March.
---
St Julian:
Pray for us that we will hold firm to our faith despite the trials that may befall us.
Glory be to the…
---