St Josephine Bakhita (1869 – 1947) was born into a relatively wealthy family in Darfur, Sudan. She had three brothers and three sisters and "lived a very happy and carefree life, without knowing what suffering was".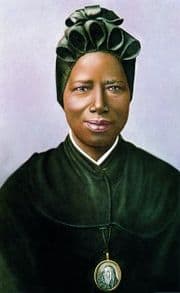 Around the age of 8yrs, St Josephine Bakhita was kidnapped by slave traders and forced to walk barefooted to El Obeid (690kms) in Central Sudan. She was bought and sold many times over during the next 12yrs and forced to convert to Islam. Some of her 'owners' were very kind to her, but others were not. About one owner she said: "During all the years I stayed in that house, I do not recall a day that passed, without some wound or other. When a wound from the whip began to heal, other blows would pour down on me".
St Josephine Bakhita's most terrifying memories were when her body would be routinely lined out for cutting with a razor blade and salt water poured on the wounds to ensure permanent scarring. In 1883, St Josephine Bakhita was sold again, but this time the family, of Italian origin, were very kind to her. It eventually led to St Josephine being taken to Italy and by good fortune, but not without many more difficulties, given the opportunity to join the Canossian Sisters. There she spent the rest of her life, 42yrs, as a nun doing household chores, praying and working with the community.
St Josephine Bakhita's Feast Day is 8th February, the day of her death. She is Patron Saint of Sudan.
---
St Josephine:
Pray for us that we can put aside our misfortunes in life, seeing them only as forming a closer union with Jesus.
Glory be to the…
---