Pope Saint John Paul (1920-2005) was born the youngest of three children at Wadowice, Poland. His older sister died before he was born and his mother, a teacher, died in childbirth when he was eight years old. His older brother, a physician, died when he was 13 from scarlet fever and his father when he was 20. He once wrote, "At twenty, I had already lost all the people I loved".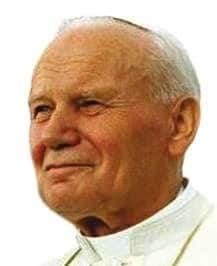 Soon after his father's death, Pope St John Paul started to study for the Priesthood and was ordained a Priest on All Saints Day 1946. At 38, he was appointed Bishop, the youngest Bishop in Poland.
Pope Saint John Paul was a talented sportsman and student as well as a gifted linguist, learning 12 languages. He was appointed Pope at the age of 58 and served for almost 27 years. He became one of the most travelled Popes, visiting 129 countries and meeting numerous world leaders.
Pope St John Paul is recognised as having helped to end Communism in Eastern Europe and forge greatly improved relations with other world religions; he was fondly known as the People's Pope.
Pope St John Paul had a profound devotion to the Blessed Virgin Mary, believing that through her intercession, he survived an assassination attempt on his life in 1981. He canonised 483 new Saints during his Papacy and he himself was canonised a Saint on 27th April 2014; just 9yrs after his death.
Pope St John Paul's Feast Day is the 22nd October. He is the Patron Saint of the Archdiocese of Kraków, World Youth Day (Co-Patron) and Families.
---
Pope St John Paul II:
With all my heart I seek You; let me not stray from Your command.
Open my eyes, that I may consider the wonders of Your law.
(Extract from Prayers by Pope St John Paul II)
Glory be to the…