St John (1247-1328) was born in Campania, Italy. He was bright and well educated. Following his ordination to the Priesthood, he devoted his entire life to the Eastern Missions in India and China. He often travelled and worked alone, preaching and converting.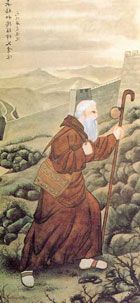 St John was held in high regard by Vatican Officials and was commissioned firstly, by Pope Nicholas to preach in the Eastern Missions and then by Pope Gregory to negotiate a reunion of the Greek Orthodox and Latin beliefs. He built many Churches and establishments to support his many new Christian communities.
St John translated the New Testament into Uyghur, the language spoken by western Chinese. In doing so, he inspired others to complete the translation of the Bible into other Chinese languages. St John was consecrated Archbishop of Peking and Latin Patriarch of the Orient.
---
St John of Montecorvino:
Pray that we will unceasingly share the Gospel of Jesus with our family and community.
Glory be to the…
---