St John-Joseph (1654-1739) was born on the island of Ischia, Spain. His father sacrificed a noble future for his love of a weaver's daughter.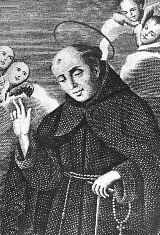 St John-Joseph's early life was one of poverty, homelessness and searching for work.
At the age of 16yrs, St John-Joseph joined the Franciscans wishing to live a life of poverty, austerity and prayer. At 20yrs and at his Superior's request, he founded a friary in Piedmont and was later ordained a Priest. He also set up a convent community and became Master of Novices.
St John-Joseph was noted for his many miracles but also, his numerous efforts to keep the miracles secret. St John-Joseph said, "Where there is no love put love … and you will find love".
St John Joseph is Patron Saint of Ischia. His Feast Day is 5th March, the day of his death.
---
St John-Joseph:
Pray for us that we will place our love for others before our love for ourselves.
Glory be to the…
---