St John Jones (Died 1698) was born in Gwynedd, Wales and executed for his Catholic faith on 12th July 1598.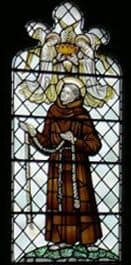 St John came from a family that remained faithful to the Catholic faith despite the Protestant Reformation. He joined the Franciscan Friars in Greenwich (England), was ordained a Priest in France and then travelled to Rome. While in Rome he requested a return to England despite the risk of execution for being a Catholic Priest and administering the Sacraments. His request was granted and he received a special Papal Blessing before departing.
For a few years, St John worked diligently and secretly among the faithful but unfortunately, in 1596 he was informed on and arrested. He suffered the then usual callous tortures and scourging during two years of imprisonment. At his trial on 3rd July 1598, he was found guilty of going abroad and becoming a Priest under the authority of Rome. He was sentenced to be hung, drawn and quartered.
St John Jones is included in the list of Forty English & Welsh Martyrs. His Feast Day is the 12th July.
---
St John Jones:
Pray for us that we will uphold the teachings of the Catholic faith in our daily actions.
Glory be to the…
---