St James, the author of the first Catholic Epistle, was the son of Alphaeus of Cleophas. His mother Mary was either a sister or a close relative of the Blessed Virgin, and for that reason, according to Jewish custom, he was sometimes called the brother of the Lord. The Apostle held a distinguished position in the early Christian community of Jerusalem. St. Paul tells us he was a witness of the Resurrection of Christ; he is also a "pillar" of the Church, whom St. Paul consulted about the Gospel.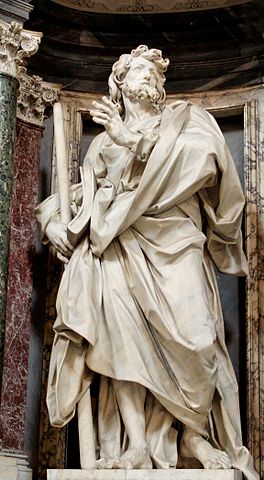 According to tradition, he was the first Bishop of Jerusalem and was at the Council of Jerusalem around the year 50. The historians Eusebius and Hegesippus state that St. James was martyred for the Faith by Jews in the Spring of 62, and they greatly esteemed his person, giving him the name of, "James the Just."
Tradition has always recognised him as the author of the Epistle that bears his name. Internal evidence based on the language, style, and teaching of the Epistle reveals its author as a Jew familiar with the Old Testament, and a Christian thoroughly grounded in the teachings of the Gospel. The date of its writing cannot be determined exactly. It was probably written between the years 60 and 62 A.D. (St James – Extracts from Catholic Online)
St James' Feast Day is 3rd May.
---
St James:
Pray for us that we will forever uphold the teachings of Jesus' Gospel.
Glory be to the…
---