Blessed James (Died 1601) was born in Gilfortriggs, Westmoreland, England into a Protestant family.
Blessed James went to London and was apprenticed to a printer. On receipt of a book from a fellow northerner, "The Foundation of the Catholic Religion," he stopped attending Protestant services, telling a persistent local Vicar that he wouldn't return until he could be convinced of Protestantism. For this, he was imprisoned and reimprisoned. On both occasions, his employer paid for his release but, fearing further conflict, he terminated his contract.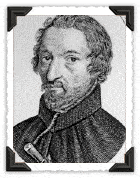 Blessed James converted to Catholicism, married a Catholic widow and set up a bookshop, dealing primarily in Catholic books. Although a devoted husband, his woes continued, spending nine of his twelve years of married life in prison.
His final imprisonment occurred when another prisoner sought a pardon, he had been sentenced to death and claimed that Blessed James published copies of "Humble Supplications to the Queen" by St Robert Southwell, a Jesuit Priest, hanged at Tyburn in 1595. Following a search of his home, no copies were found but other Catholic scripts were.
In 1602, Blessed James was brought to court and despite a jury finding him initially innocent, the judge told them to reconsider their verdict and he then imposed a sentence of death by hanging. When his distraught wife, weeping and unable to talk, visited him the day before his execution he said to her, "Keep yourself God's servant and in the unity of God's Church and I shall be able to do you more good, being now to go to the King of kings".
Blessed James was hanged at Tyburn in London on 19th April, alongside the man who accused him of publishing "Humble Supplications to the Queen;" his request for a pardon had been refused. However, before his death, Blessed James publically forgave the man and encouraged his wife to do the same. Blessed James was beatified in 1929 by Pope Pius XI.
Blessed James' Feast Day is 19th April. He is Patron of booksellers and publishers.
---
Blessed James:
Pray for us that we will one day, "Go to the King of kings".
Glory be to the…
---