St Jacinta and St Francisco (Jacinta 1908 – 1919, Francisco 1910 – 1920) were born to poor parents at Aljustrel near Fatima, Portugal. Typically of the region at that time, both were illiterate and their daily work consisted of household chores and herding the family's sheep.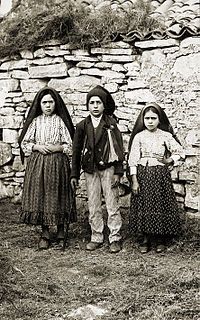 Jacinta and Francisco, along with their cousin Lucia Santos (1907-2005), were witnesses to several visions by the Blessed Virgin Mary, Our Lady of Fatima. The scenes of the visions are world renowned and, being relatively recent, well documented and scrutinised.
Being a visionary was not an easy burden to carry for the children and their families. Many initially disbelieved and ridiculed their stories.
Jacinta and Francisco are remembered for their simple unwavering devotion to the apparitions, a prayerful life and regular self-imposed penance. They died painful deaths at the young ages of 9 and 10yrs, from the great influenza epidemic.
Jacinta once said, "Tell everybody that God grants us graces through the Immaculate Heart of Mary; that people are to ask her for them; and that the Heart of Jesus wants the Immaculate Heart of Mary to be venerated at his side. Tell them also to pray to the Immaculate Heart of Mary for peace, since God entrusted it to her".
Jacinta and Francisco's Feast Day is 20th February. Their patronage includes the sick and those ridiculed for their piety.
---
St's Jacinta & Francisco:
Pray for us that we will remain committed in our devotion to the Blessed Virgin Mary for peace in our home, family and the world.
Glory be to the…
---