St Ita – Deirdre or Dorothy (ca 480-570) was born in Waterford, Ireland. Against her father's wishes, she refused to marry. Instead, she set up her own community of nuns who devoted their lives to the education of the young and care of the poor, sick and elderly.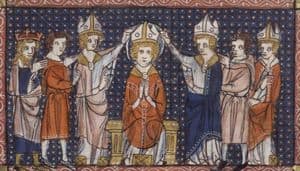 She is often referred to as, "The Foster Mother of Irish Saints" because of the esteem with which she was held by the local people and her care for St Brendan whom she often met.
St Ita told St Brendan that the three most pleasing acts towards God were: one's faith, leading a simple spiritual life and making generous acts of charity. In contrast, she said, the three most destructive acts were: a mouthful of hate, a heart full of resentment and worship of material goods.
St Ita's Feast Day is the 15th January. She is the Patron Saint of the Diocese of Limerick.
---
St Ita:
Pray for us that we will live our faith through our daily words and actions.
Glory be to the…
---