The Feast of the Holy Innocents (0-5AD) recalls the massacre of all male children, two years old or under, who lived in Bethlehem and the surrounding region. They were killed on the orders of a furious King Herod the Great; he was determined to avoid the loss of his throne to a Newborn King, Jesus the Son of God.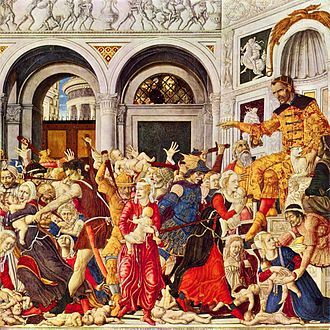 Herod had heard from the three Magi (Wise Men) that a King was born in Judea, "Having seen his star in the east". King Herod said to them, "Go and look carefully for the child. When you find him, inform me so that I can go and worship him as well". His intentions were evil, he was planning to kill the baby Jesus. (Matthew 2:8)
The Magi continued their journey to Bethlehem and found the baby Jesus but, "After being warned in a dream not to return to Herod, they went back by another route to their own country". (Matthew 2:12)
The Feast of the Holy Innocents is the 28th of December.
---
Holy Innocents:
Enlighten our minds to an awareness and a renewed conviction that all human life is sacred because it is created in God's image and likeness. (Extract from Prayer for Unborn Child – Catholic.org)
Glory be to the…
---