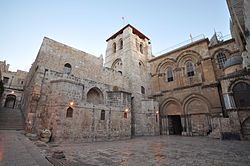 St Hesychius was probably born in Jerusalem. He died around 450. He was consecrated as a Christian Presbyter (Leader and Elder) by the Archbishop of Jerusalem. He wrote many books and commentaries on the Bible. They include Leviticus, the Psalms, Minor Prophets, Isaiah, Luke and the Blessed Virgin Mary although, sadly, not all of his manuscripts have survived the ravages of time. Through his writings, he became a highly respected authority on Christian teaching.
St Hesychius was also well known for his preaching and teaching. It is said that he often reminded his followers to, "Keep yourselves free from sin so that every day you may share in the mystic meal; by doing so our bodies become the Body of Christ."
St Hesychius' Feast Day in the Greek Orthodox Church is the 28th March.
---
St Hesychius of Jerusalem:
Pray for us that we will seek the wisdom to search for a deep love of Jesus in our everyday life.
Glory be to the…
---