St Genevieve (ca 419 – 512) was born in Nanterre, France but her family moved to Paris. At the age of 15yrs, with the guidance of Bishop Germanus of Auxerre, she entered a convent and became a nun.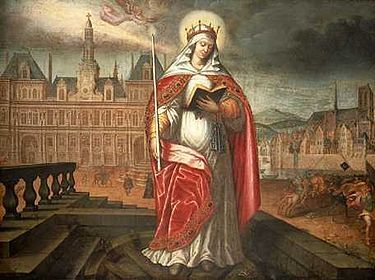 St Genevieve was well known for her piety, works of charity, extreme fasting and physical acts of penance – mortifications. She received many visions from Saints and Angels and was appointed, by the Bishop of Paris, to take charge of those who had given themselves to God in perpetual virginity. (St Agnes and St Lucy were among many other similar Saints.)
St Genevieve is credited with convincing the people of Paris to remain in their homes and pray during the threatened invasion of the city by Attila in 451. Attila ultimately withdrew his army and the invasion of Paris was avoided. During a further siege of the city by Childeric in 464, St Genevieve broke the blockade, taking food in boats to the people.
Many miracles have been attributed to St Genevieve's intercession, most famously, relief from the "Ergot Poisoning" epidemic (cereal fungus) in Paris around 1129.
St Genevieve is the Patron Saint of Paris. Her Feast Day is 3rd January.
---
St Genevieve:
Pray for us that our efforts to live as Jesus asked will never fail.
Glory be to the…
---