St Francis (1563 to 1608 – Aged 44) was born in Villa Santa Maria, Naples. He was baptised, Ascanio and in his youth, he was said to be known for his "gentleness and uprightness".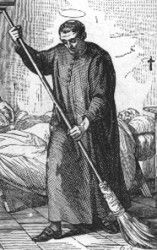 At 22, St Francis suffered from a severe form of leprosy and was expected to die. St Francis made a vow that, should his health be restored, he would give his future life to the service of God as a Priest. St Francis was miraculously cured so, he immediately set about studying for the Priesthood. In 1587, he was ordained and joined the Congregation of Bianchi della Giustizia (The White Robes of Justice), whose role was to help condemned prisoners to die in the peace of Christ Jesus.
St Francis co-founded a new congregation, the Clerics Regular Minor, and in 1593, he was appointed their Superior, a position he held for seven years prior to returning to a simple life of devotion to the Blessed Sacrament, hearing confession and doing menial household chores. It is said that "the little sleep he allowed himself was often spent on one of the altar steps".
St Francis is the Patron Saint of Italian cooks and Naples. His Feast Day is 4th June.
---
St Francis Caracciolo:
Pray for us that we will find peace through our daily work knowing that Jesus Christ is always with us.
Glory be to the…
---