St Francis (1681-1742) was born in Lucera, Italy. He was educated locally and studied in the Town Friary where he professed his religious vows. Following further Theological Studies at Assisi, he was ordained a Priest in 1705 and remained there for another two years. He later received a Doctor of Theology.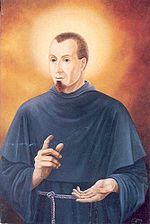 St Francis returned to his hometown to minister, spending the remainder of his entire life serving his Order as a teacher of Philosophy and Master of Novices, while at the same time, performing extensive pastoral duties within his local community.
St Francis lived a life of deep prayer and devotion to the Holy Eucharist and Reconciliation. He was considered a mystic and became a very popular and sought after confessor and preacher. Despite his many work commitments, St Francis was a steadfast friend of the poor and marginalised; routinely seeking funds to support their needs.
St Francis' Feast Day is the 29th November. He is Patron Saint of Lucera.
---
St Francis Anthony Fasani:
Pray that we will earnestly live by Jesus's teachings and give generously to the poor and marginalised.
Glory be to the…
---