St Frances (1384 – 1440) was born in Rome into a wealthy aristocratic family.
At 11yrs, St Frances wanted to be a nun. However, at 12yrs, she was forced by her family into an arranged marriage to a wealthy commander of papal troops, Lorenzo Ponziani. The marriage was a happy one, lasting forty years.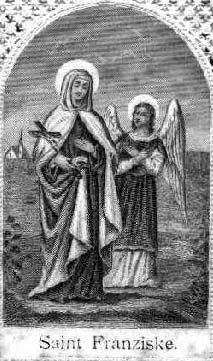 With her husband frequently away at war, St Frances cared for the local poor and sick which inspired other wealthy women to join her. Once when she fell seriously ill, her husband sought the help of a doctor/magician but she sent him away, later saying that through the intercession of St Alexis, she was cured.
Following the death of her mother-in-law, St Frances took charge of her home. During a time of famine and when much of Rome was in ruins, she turned it into a hospital. On another occasion, she made it a food and clothing distribution centre.
There are multiple accounts of St Frances' gift of healing, miracles and visions:
When her father-in-law took charge of their food supply room during a famine, he later returned the keys to St Frances having discovered the bins were replenished after she finished praying.
When she was ordered to deliver her son, Battista, for troop enlistment, she stopped at a Church on the way and entrusted his life to the Blessed Virgin Mary. After handing him over to the soldiers the transport horses refused to move, despite being whipped. The soldiers, believing God's involvement, returned Battista to St Frances.
She had visions of her Guardian Angel.
She foretold the end of the Western Schism and made revelations concerning Purgatory and Hell.
During her canonization process, more than sixty miracles were reported.
St Frances suffered many sorrows during her life. Two of her children died of the plague and her husband was seriously wounded. St Frances nursed him for seven years until his death.
St Frances founded the Olivetan Oblates of Mary, a group of religious lay-women who followed a normal family life but worked within the community among the poor and needy. She also founded a monastery at Tor de' Specchi. Following her husband's death, she moved to the monastery, becoming it's Superior.
St Frances' Feast Day is the 9th of March, the day of her death. Her Patronages include car drivers, widows and the Benedictine Oblates.
---
St Frances:
Pray for us that we will never tire of serving others.
Glory be to the…
---