St Fintan (Approx. 524 – 594) was born in Leinster, Ireland. His Christian parents were named Gabhren and Findlath.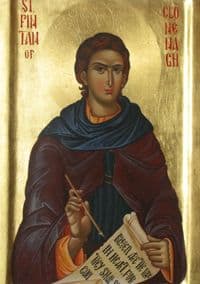 St Fintan was taught by the then Abbott, St Columba, who entrusted the monastery of Clonenagh to him when he moved to Terryglass, Tipperary.
St Fintan's life was one of solitude, prayer and deep penance. He attracted many like-minded followers despite his very austere expectations. St Fintan was well known for his many miracles and prophesies. His legacy lives today, mainly in Ireland where his works have often been compared to that of St Benedict.
St Fintan's Feast Day is 17th February.
---
St Fintan:
Pray for us that we may be made worthy of the promises of Jesus Christ. Amen.
Glory be to the…
---