St Ephrem (Approx. 306 -373) was baptised a Christian in Nisibis, Turkey – close to the Syrian border. His parents were Christians, his father possibly a pagan priest before converting to Christianity.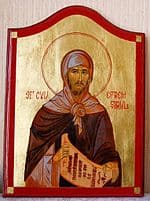 St Ephrem was ordained a Deacon and appointed Teacher. His stance against heresy inspired many others within the church. He became a prolific writer of hymns, poems, sermons and other great works. Over 400 of his hymns still exist today. He is often referred to as the "Deacon of Edessa", the "Son of the Syrians" and the "Pillar of the Church".
St Ephrem died from the plague as he ministered to its victims. He is a Doctor of the Roman Catholic Church. His Feast Day is the 9th June.
---
St Ephrem:
Pray for us that we will continue to sing the praises of our Risen Lord for all eternity.
Glory be to the…
---