St Elizabeth (1271 -1336) was born into Royalty at Zaragoza, Portugal. She was named after her great-aunt, St Elizabeth of Hungry. At 10, she was contracted to marry King Denis of Portugal; he was 26 and she was 17 when they actually married. They had two children.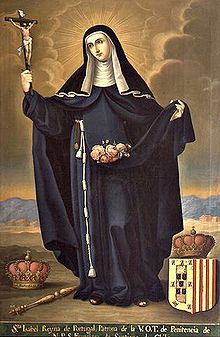 St Elizabeth was fervent in her faith; she partook the sacraments, engaged in daily prayer (Divine Office) and made regular penances. When her husband died, she retired to a Poor Clare Monastery and joined the Order of St Francis. Her life then became even more devoted to helping the poor and those in need, as well as, retaining past royalty roles particularly her acts of peacemaker to quell feuds between Kings. Upon her return from one such successful mission, when two armies agreed not to fight, she fell ill and died. Many miracles were reported immediately followed her death.
St Elizabeth's Feast Day is the 4th July.
---
St Elizabeth of Portugal:
Pray for us that we will remain faithful to our family and work duties while helping the poor.
Glory be to the…
---