St Elizabeth (1207-1231) was born a Princess, the daughter of the King of Hungary, at the Castle of Sarospatak. She was taken to Germany at the age of five and betrothed to Ludwig IV whom she married at fourteen.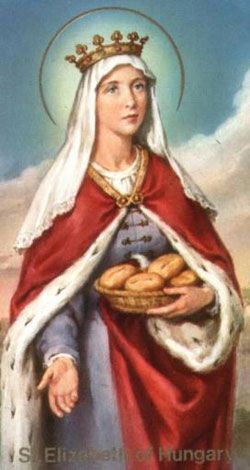 St Elizabeth became interested in the Franciscan way of life and, supported by her husband, greatly enhanced her charitable deeds including, feeding the poor and building a hospital for the sick which she visited daily. At 20, while pregnant with her third child, her husband died of fever. St Elizabeth reacted by becoming even more devoted to prayer, penance, the sick and the poor. She took vows similar to that of a nun and, despite great pressure, she refused to remarry.
St Elizabeth used her dowry money, which was returned to her, to build another hospital and, with like-minded friends, she continued to care for the less fortunate in life.
Following her death at the early age of 24yrs, there were multiple reports of healing miracles associated with her burial place in the Hospital Church. A few years later she was canonised a Saint.
St Elizabeth's Feast Day is the 17th November. She is the Patron Saint of hospitals and nurses.
---
St Elizabeth of Hungary:
Pray that we will be guided by the Holy Spirit in our daily work and prayers.
Glory be to the…
---