St Edmund (Died 869) was born in 1841 in East Anglia, England. His father is thought to have been the brother-in-law of King Æthelstan of Kent.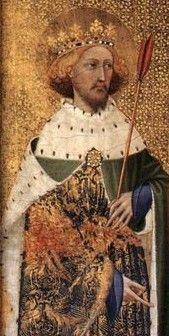 At the age of 14yrs, St Edmund was elected King of East Anglia.
In 1869 and following the Danish invasion of East Anglia, St Edmund was captured at Hone in Suffolk, tortured and beheaded. St Edmund's body was buried near to where he was killed but later transferred to modern-day Bury St Edmunds, a town named in his memory.
St Edmund's Feast Day is the 20th November. He is the Patron Saint of the Diocese of East Anglia, Suffolk, Douai Abbey, Toulouse, Kings, pandemics and torture victims.
---
St Edmund the Martyr:
Pray that our hearts will be illuminated with the grace of the Holy Spirit and that we may be ever obedient to God's commandments. (Extract from Prayer to St Edmund of Canterbury)
Glory be to the…
---