St Edmund (1567-1591) was born in Lichfield, Staffordshire, England.
At 17yrs, St Edmund converted to Catholicism and studied at the English College in Reims, France. He was ordained a Priest in 1590.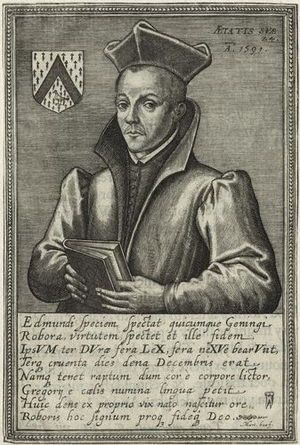 Following his ordination, St Edmund returned to England and proudly ministered to the Catholic community. However, he had to do so in secret; Elizabeth I's reign had made it a treasonable offence, carrying the death penalty, to convert others to Catholicism.
On 7th November 1591, soon after his return to England, St Edmund was arrested with another Priest, St Polydore Plasden, by the infamous Richard Topcliffe and his officers while saying Mass in the house of St Swithun Wells at Gray's Inn, London. He was imprisoned and severely tortured. At his trial on the 6th December, he was condemned to be hanged, drawn and quartered for entering the country illegally and performing his Priestly duties.
On the 10th December, St Edmund was taken back to outside the house of his arrest were preparations for his execution had been made. In his final speech to the gathered crowd, he said, "If to return to England a Priest, or to say Mass be a Popish treason, then I confess I am a traitor. But I think not so. And therefore I acknowledge myself guilty of those things, not with repentance, but with an open protestation of inward joy".
St Edmund's speech enraged Richard Topcliffe and he ordered his immediate hanging but before he fell into unconsciousness, Topcliffe had the rope severed, St Edmund disembowelled and his heart cut out.
It is said that St Edmund spoke the words, "Sancte Gregori, Ora pro me," (St Gregory, Pray for me) while he was being disembowelled and the hangman afterwards swore,"Zounds! See, his heart is in my hand, and yet Gregory is in his mouth. O egregious Papist!"
Immediately after St Edmund's martyrdom, St Swithun Wells, whose home St Edmund was saying Mass in at the time of his arrest, was hanged. St Polydore was taken to Tyburn on the same day and hanged until dead, then drawn and quartered.
St Edmund's Feast Day is the 10th December. He is also one of the 40 Martyrs of England and Wales whose Feast Day is the 4th May in England and the 25th October in Wales.
---
St Edmund Gennings:
Pray that, despite our trials and temptations, we will remain firm in our faith and the teachings of Jesus Christ.
Glory be to the…
---