St Dunstan (909 – 988) was born at Baltonsborough, Somerset, England. He was the son of a nobleman. His mother was a pious woman who was informed, through a miraculous relighting of a candle during a church service, that she would give birth to a Saintly child; he "would be the minister of eternal light".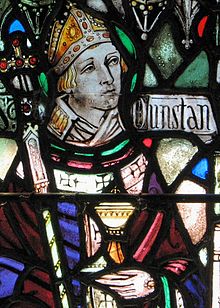 St Dunstan was taught by Irish Monks who at the time occupied Glastonbury Abbey ruins. He became a skilled artist and silversmith. In his youth, he had a dream of restoring the Abbey to its former glory. After some hesitation, he became a monk and was later appointed Abbot of Glastonbury. As Abbot he reformed monastic life and, lived his dream, restoring the Abbey.
St Dunstan was appointed Bishop of Worcester and London before being elected to the post of Archbishop of Canterbury. He remained a highly venerated Saint long after his death and is still venerated by the Orthodox, Anglican and Catholic Churches. He is buried at Canterbury Cathedral.
His Feast Day is the 19th May, the anniversary of the date of his death.
---
St Dunstan:
Pray for us that we will use our skills and talents to honour God, our creator.
Glory be to the…
---