St Denis (also Dionysius or Denys) (Died 250-270 ca) was born in Italy and died in Paris. He was an inspirational Bishop of Paris and renowned for his many conversions to Christianity.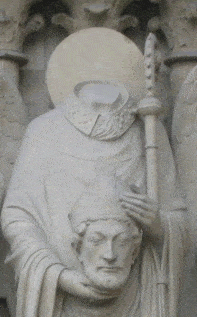 St Denis, with his friends Rusticus and Eleutherius, was martyred during the Roman Decian period of Christian persecutions by beheading.
Legend celebrates his martyrdom saying that following his execution, St Denis picked up his decapitated head and walked some 10kms preaching a sermon to the endearing crowd.
St Denis' Feast Day is the 9th October. He is one of the Patron Saints of Paris and also one of the Fourteen Holy Helpers whose intercession is sought by many at the time of their death.
---
St Denis & Companions:
Pray that, despite all of life's troubles, we will never relinquish our faith.
Glory be to the…
---