St Daniel (Died 309) and his Companions (Elias, Isaias, Jeremy & Samuel) were Egyptians who, in 309, visited other Christians condemned to a life of slavery in the copper mines of Roman Cilicia (Turkey). On their return to Egypt, they were arrested at the gates of Caesarea in Palestine and questioned. They admitted to having travelled to the copper mines so, they were arrested.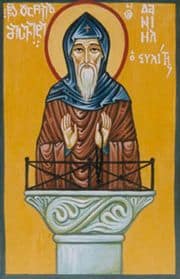 The following day, when they were brought before the Governor, Firmilian, they were tortured and interrogated further. Finally, Governor Firmilian ordered their beheading.
During their execution and martyrdom, two other Christians who showed their support for St Daniel and his Companions were also executed. They were Porphyry, a Christian servant of St Pamphilus, who was burned to death and St Seleucus, who was beheaded.
Their Feast Day is 16th February.
---
St Daniel, Elias, Isaias, Jeremy & Samuel:
Pray for us that we will remain forever faithful to the teachings of Jesus Christ.
Glory be to the…
---