St Colette (1381-1447) was born into a poor carpenter family in Corbie, France. It is said that her aged parents prayed to St Nicolas for a child and, through his intercession, her mother Marguerite gave birth to Colette at the age of 60 years.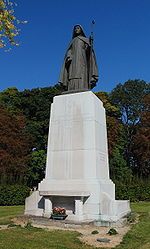 At 19yrs and following her parent's death, she gave her wealth to the poor and joined a lay community but finding it unfulfilling, four years later, she joined the Order of St Francis.
Following a series of dreams, St Colette then joined and reformed the Poor Clares creating many new convents and instilling a lifestyle of extreme poverty and austerity.
St Colette miraculously saved the life of a pregnant mother and child at the time of its birth.
St Colette is the Patron Saint of women wishing to conceive and expectant mothers. Her Feast Day is 6th March, the day of her death.
---
St Colette:
Pray with us for those wishing to conceive a child and today's expectant mothers.
Glory be to the…
---