St Charbel Makhlouf (1828 – 1898) was born into a pious family, one of five children, at Bekaa Kafra, Lebanon. His father died when he was 2 years old. His mother later remarried a man who became the Parish Priest of the village.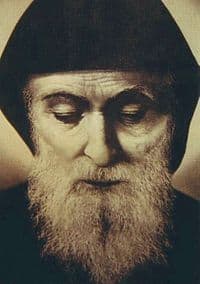 As a young boy, St Charbel's duties included herding the family's small flock. At the same time, he would often take the flock to a nearby self-made grotto, where he had installed an image of the Blessed Virgin Mary, and spend his day in prayer.
In 1851, St Charbel joined a monastery of the Lebanese Maronite Order. He took his final vows as a monk in 1853 and, having continued his studies at the monastery, was ordained a Priest in 1859.
In 1875, St Charbel was granted permission by his Abbot to live as a hermit in a monastery Chapel. He remained in the chapel, as a solitary hermit, for 23 years, until his death. Numerous well-documented and high profile miracles were reported at the time of his death. His body remained incorrupt until the 1960's.
The Feast of St Charbel is the 24th July.
---
St Charbel Makhlouf:
Pray that we will receive the grace of a good life entwined in prayer and a happy death.
Glory be to the…
---