St Casimir (1458-1484) was born the third of thirteen children to King Casimir IV of Poland. It is said that he was greatly influenced in early years by his primary educator, Fr John Dlugosz.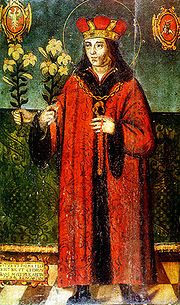 At 13yrs, St Casimir was appointed Crown Prince, a time when politics were being played out between adjoining home countries. His political appointment was unsuccessful and St Casimir returned to a beloved life of prayer and penance while living among his people.
Pope John Paul II described St Casimir as, "A shining example of poverty and sacrificial love for the poor and needy". His life was one in which "Purity and prayer beckoned you to practice your faith with courage and zeal … and to live your convictions with fearless confidence and joy".
St Casimir is Patron Saint of Poland, Lithuania and Lithuanian Youth. His Feast Day is 4th March, the day of his death.
---
St Casimir:
Pray for us that we will tend to the needs of the poor who reside in our community.
Glory be to the…
---