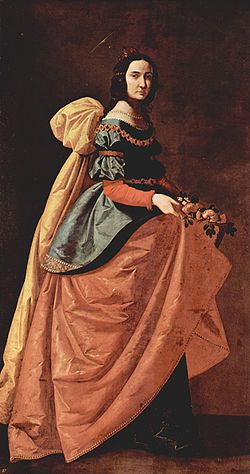 St Casilda was born around 950 into Muslin Royalty; her father was the King of Toledo, Central Spain. Throughout her life, there was constant political and religious conflict. St Casilda's response was to choose a life of tolerance and respect towards all.
She was greatly affected by the imprisonment and torture of many Christians for the practice of their faith. She visited them in prison and when doing so, smuggle food to them under her clothing. It is said that on one occasion when the Muslim guards insisted on seeing what she was hiding under her clothing, bread miraculously turned to a bunch of roses.
When St Casilda suffered a life-threatening illness, she visited and prayed at the Shrine of San Vicente and was miraculously cured. St Casilda converted to Christianity and spent the remainder of her life in solitude and prayer, close to the San Vicente Shrine.
St Casilda's Feast Day is 9th April.
---
St Casilda:
Pray for us that we will find peace in our hearts helping all of God's children regardless of their culture, religion or status.
Glory be to the…
---